University of the People: estudiar gratis en la universidad del pueblo
Si en estas vacaciones deseas seguir estudiando, pero tus ingresos y una agenda apretada no te lo permiten.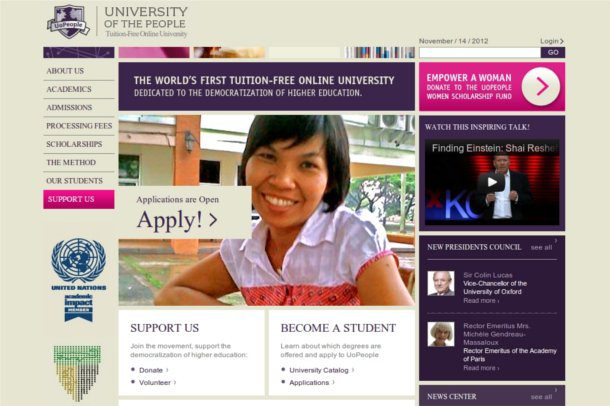 Entonces puedes probar el moderno sistema educativo que ofrece University of the People (la universidad del pueblo). El cual es una institución NO acreditada en Estados Unidos. Pero que ofrece a sus estudiantes varios cursos con los cuales pueden enriquecer sus conocimientos sobre: administración de empresas y ciencias de la informática.
Lo interesante de la universidad del pueblo. Es que para poder optar a estudiar en ella, sera necesario que llenes un formulario o solicitud de ingreso.
Siendo así, que una vez hayas cumplido este requisito, podrás comenzar a estudiar gratis en la Universidad del pueblo. Eso si, siempre tomando en cuenta que a la hora de realizar el examen final del curso. Deberán pagar $100 dólares por el examen.
Un valor elevado para algunos. Pero si simbólico si lo comparamos con lo que normalmente costaría un curso dentro de una universidad privada en América Latina.
Ahora, si al igual que este tu servidor te surge la duda si esta Universidad online funciona. Entonces, te invito a ver la ponencia de Shai Reshef en TEDxKC.
[youtube_advanced url=»https://www.youtube.com/watch?v=K0PJbPlZoNI» rel=»no» https=»yes»][Vídeo][/youtube_advanced]
En dicha ponencia, el habla acerca de la universidad del pueblo. Y algunas historias inspiradores de la vida de sus estudiantes.
Visita | University of the People – La universidad del pueblo.