The Old Reader: otro buen sustituto para Google Reader
The Old Reader es un gestor de Feed RSS que podrías utilizar como sustituto para Google Reader. Siendo así que a través de The Old Reader podrás leer las noticias mas recientes publicados en tus sitios web favoritos. Teniendo a demás la capacidad de agrupar las noticias en diferentes categorías que te ayudarán a ordenar la información.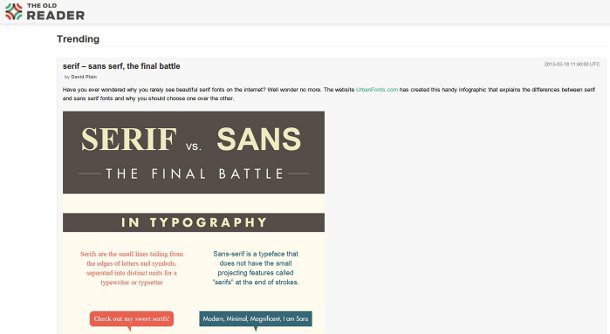 Sumado a esto (y al igual que Google Reader), The Old Reader cuenta con una serie de accesos directos, los cuales nos permiten: Cambiar de artículo, regresar al artículo anterior, abrir el artículo en una nueva ventana, marcar el artículo como favorito, salvar el artículo para leerlos después en Pocket, abrir los comentarios adjuntos al artículo, cambiar a vista completa y cambiar a vista de listado.
Otra función interesante de The Old Reader. Es que cuenta con una carpeta llamada "Shared" en donde se alojan todos los artículos que hayas compartido con tus amigos de Facebook y Google+. Siendo posible en dicha carpeta, realizar comentarios a cada uno de los artículos compartidos.
Y bueno, si eres de los usuarios (que al igual que este tu servidor) próximamente se quedara sin su gestor de Feed RSS favorito. Entonces te recomiendo probar The Old Reader.
Prueba | The Old Reader – otro buen sustituto para Google Reader.